Low-elongation or static, ropes are a core element of any work-at-height system. Sterling have been making the highest quality and most innovative static ropes for decades. The Sterling name has become synonymous with durability and reliability across multiple industries at all job sites. For Sterling, making a new rope starts with understanding how exactly it will be used in a work-access or rescue scenario, what function it needs to perform, and how it will need to handle and integrate with other tools and hardware.
HTP Static
When Sterling first introduced the HTP lineup—the first 100% polyester static ropes on the market—the reaction could best be described as skeptical. There was no precedent for using it in high-impact, industrial rope applications. A few years later, HTP are some of the most sought-after static ropes available, for many rope access, rescue or tactical applications. This popularity is because of the HTP's many advantageous qualities thanks not only to its polyester material, but also to the construction methodology Sterling devised to extract the most from this material: an exacting core construction for strength and unique sheath for handling. The result is solid resistance to water, chemicals, UV and abrasion and great overall handling and gear compatibility.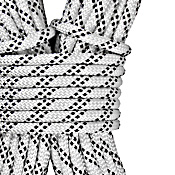 SuperStatic2™
The SuperStatic2 line has been Sterling's go-to, all-round static rope for years. In this latest version, the core is engineered specifically to make the SuperStatic2 a more flexible and better-handling rope. It also made the ropes more round and consistently shaped from end to end. The SuperStatic2 ropes integrate smoothly and operate reliably with gear and hardware.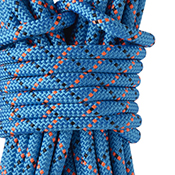 WorkPro
For the WorkPro, Sterling developed an entirely new approach to rope construction—one that makes for balanced elongation in the core and sheath so they share the load evenly. This makes the WorkPro Series stronger than other ropes of similar construction while retaining a small but important amount of elongation.